Followers
From World of Charun
Along with their levels, characters also gain reputation. Those who show promise, great power, a path towards success, or perhaps just a friendly demeanor, may find that NPCs want to follow them. These NPCs may wish for apprenticeships, employment, or a leader they can look up to.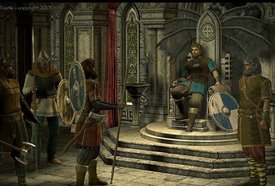 These followers are much more loyal than your average hirelings. They largerly share the world view of their lord, and if well treated, they can be prepared to face danger and even die for him.
Followers can make their own decissions, trying to make choices that they believe to be beneficial to their lord. Hirelings on the other hand just do as they're told.
Requirements
A character must own a stronghold in order to attract followers. A stronghold can be a village, a dungeon, a castle, a grove or something similar and prominent enough to impress potential followers.
Each stronghold will have a Level value, which is used when determining the maximum amount of followers the player character owning it can attract, regardless of his own level. Thus a when a character bypasses the stronghold in Lord Levels, the number of followers stagnate. The character's Charisma modfier is added to the Stronghold level.
Example: A simple, wooden mansion could have Stronghold Level 8, while a large castle with surrounding lands and a small village below it could have Stronghold Level 22.
More about: Strongholds
Lord Level
A character's Lord Level determines his leadership and presence when it comes to attracting followers, among other things. The Lord Level is equal to the character's class level + his unmodified Charisma modifier. A character can choose to increase his Lord Level through Boons that are gained after reaching level 10.
Example: A lvl 10 warrior with CHA 16 (+3) would have a Lord Level of 13.
Cohort
The characters CHA modifier grants him an additional group of very loyal followers, known as a Cohort. They are two levels above the highest follower level. The Cohort contains the most trusted followers of the character.
The Cohort usually shares the character's race, culture and orientation when it comes to profession. Characters far from home tend to have fewer Cohort members from their own culture, in some cases none.
Example: A Lord Level 12 character attracts ten lvl 1 followers, five lvl 2 followers and a lvl 3 follower. If the character has CHA 14 (+2), he'd add two additional lvl 5 followers, also known as his Cohort.
Replacing Cohorts and Followers
Lost cohorts of followers can usually be replaced, a procedure that takes 6 months - CHA modifier, with the minimum always being one month.
If the character is to blame for their deaths, it takes longer to replace them, 12 months - CHA modifier, with the minimum always being three months.
Costs
Followers are willing to serve the character for one quarter of the price demanded by regular hirelings. The Cohort serve for half the cost of an ordinary hireling. Their cost is not paid from the character's gold gained during adventuring, but rather from the stronghold's treasury which should be kept filled through the financial plan of the stronghold.
Followers cost 250 sp per level and per month.
The Cohort costs 500 sp per level and per month.
Additional hirelings, mercenaries and other in similar service cost 500 sp per level and per month.
Availability
Population may be scarce in certain regions, which could lead to a shortage in followers. A charismatic, powerful individual could also pose a threat by his mere presence to a small nation where the majority of warriors could join him rather than the king's host.
Tables
Number of Followers by Level
| LORD LEVEL | NPC Lvl 1 | NPC Lvl 2 | NPC Lvl 3 | NPC Lvl 4 | NPC Lvl 5 | NPC Lvl 6 | NPC Lvl 7 | NPC Lvl 8 | Monthly Cost |
| --- | --- | --- | --- | --- | --- | --- | --- | --- | --- |
| 10 | 5 | 1 | - | - | - | - | - | - | 175 |
| 11 | 8 | 5 | - | - | - | - | - | - | 450 |
| 12 | 10 | 5 | 1 | - | - | - | - | - | 575 |
| 13 | 10 | 8 | 2 | 1 | - | - | - | - | 900 |
| 14 | 15 | 10 | 2 | 1 | - | - | - | - | 1125 |
| 15 | 25 | 15 | 10 | 5 | 1 | - | - | - | 2750 |
| 16 | 50 | 20 | 15 | 10 | 1 | - | - | - | 4500 |
| 17 | 60 | 25 | 20 | 10 | 5 | 1 | - | - | 6025 |
| 18 | 70 | 30 | 25 | 15 | 10 | 1 | - | - | 8025 |
| 19 | 80 | 35 | 25 | 20 | 15 | 1 | - | - | 6950 |
| 20 | 100 | 40 | 30 | 20 | 15 | 10 | 5 | - | 10750 |
| 21 | 125 | 40 | 30 | 25 | 20 | 15 | 10 | 1 | 16575 |
| 22 | 150 | 45 | 35 | 30 | 25 | 20 | 15 | 2 | 20775 |
| 23 | 175 | 45 | 35 | 30 | 25 | 20 | 15 | 3 | 21600 |
| 24 | 200 | 50 | 40 | 35 | 30 | 25 | 20 | 4 | 25800 |
| 25+ | 250 | 60 | 50 | 40 | 30 | 25 | 20 | 5 | 29000 |
Organisation
Followers at higher levels reach numbers worthy a small army. They can be organised in the following manner, or equalent:
Lvl 8: Major
Lvl 7: Captain
Lvl 6: Lietenaunt
Lvl 5: Sergeant
Lvl 4: Corporal
Lvl 3: Veteran
Lvl 2: Soldier
Lvl 1: Recruit

Example of the followers of a Lord Level 16 character:
1 x Lvl 5 Sergeant
10 x Lvl 4 Corporals
15 x Lvl 3 Veterans
20 x Lvl 2 Soldiers
50 x Lvl 1 Recruits

Force Organisation:
Officer in Charge of the force: Sergeant
5 units each consisting of:
1 Corporal
3 Veterans
4 Soldiers
10 recruits

Back to: Main Page | Player Characters