Giant
From World of Charun
"Being big, bad, dumb and super-strong is always an unpleasant combination. Our taverns are full of examples. If you take one of those drunkard bullies and multiply him by ten, then you'll have a giant. The difference is that a regular bully won't eat you - a giant will, if it's hungry enough...and it always is." - Sheriff Longax of Dagandal

Giants combine great size with even greater strength, giving them an unparalleled ability to wreak destruction upon anyone or anything unfortunate enough to get in their way. Most rely on their legendary strength to solve problems and any difficulties that won't succumb to brute force aren't worth worrying about. Most of them subsist by hunting and raiding, taking what they like from creatures weaker than themselves. Giant kin with more with are known to demand tribute from nearby villages rather than levelling the settlement with the ground., thus gaining a long-term income.
Hill Giant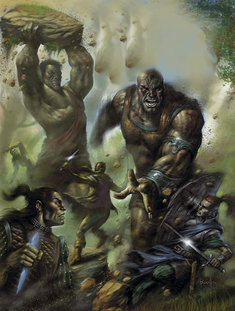 Hill Giants are by far the most common breed of giantkin. They are spread across Charun, and usually what people refer to when they speak about "giants". Hill Giants are selfish, cunning brutes who survive through hunting and raiding. They have an oddly simian appearence, with overlong arms, stooped shoulders, low foreheads and thick, powerful limbs. Hill Giants wear layers of crudely prepared hides with fur left on. They seldom wash or repair their garments, preferring to simply add more hides as their old ones wear out.
Allthough Hill Giants prefer temperate areas, they can be found inpratcially any climate where there is an abundance of hills and mountains. Individuals and bands tend to be aggressive and prefer taking what they want over trading. Tribes (and some bands) often trade with other giants or with groups of ogres or orcs to get foodstuffs, trinkets and servants.
Adults are about 10 1/2 feet tall and weigh about 1,100 pounds. They can live to be 200 years old.
Hill Giants dwelling in mountaineous areas are refered to as Mountain Giants.
Fire Giant
Fire Giants brutal, ruthless, militaristic - and luckily uncommon in most regions of Charun. They are tall but squat, resembling huge dwarves. They wear sturdy cloth or leather garments colored red, organge, yellow or black. Warriors wear helmets and chainmail of blackened steel.
Fire Giants dwell only in hot places. They prefer volcanic regions or areas with hot springs. They live in well-organised military groups, occupying large castles or caverns. Tribal leaders call themselves "kings" and "queens". Fire Giants usually engage in ongoing military campaigns to subjudgate the areas around them and often receive tribute from creatures living nearby.
An adult male is 12 feet tall, has a chest that measures 9 feet around and weighs about 7,000 pounds. They can live to be 350 years old.
Frost Giant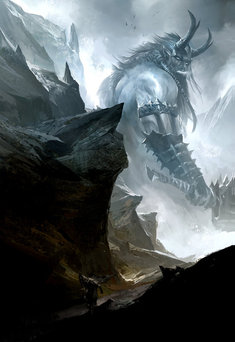 Frost Giants are rare and legendary creatures, believed by many up north to predate all other races in Charun. They are highly intelligent, but justifiably feared due they regard everything and everyone else as lesser beings put into the world to serve them. They enforce this world-view with uncompromising and brutal persistence - even successfully engaging white dragons that put a claim on their territory.
Many sages believe that there is naught but a dozen Frost Giants walking the arctic regions of Charun - all of them created thousands of years ago by Airi, the cold godess of winter. Unable to reproduce, they are destined to forever dwell in the mortal world till a violent death claims them.
It is not known where these solitary giants dwell. Myths and legends claim that they sleep only once per year - a period of rest that lasts for a month, during which they simply halt and remain standing, quickly turning into a snow-covered cliff. Stories tell of shocked hunters who've sought cover from a blizzard behind a cliff, where their fires suddenly have revealed a wagon-sized toe beneath the melting snow.
Only male Frost Giants have been seen across the Ages, and they are rumoured to stand around 30-50 feet tall, however, due to their rarity it has not been confirmed. Two Frost Giants were mentioned by name by the White Dragon Khasfrotur in the end of the Second Age. The dragon mentioned the giants Aurkuldi and Yrdharmur in a discussion with an approaching group of Eiothar Warriors, pointing them out as a greater danger to the elves than itself. However, as the dragon was killed by Eiotharin in the following battle the truth behind the claim was never established.
The Northmen call Frost Giants Urfader, which roughly translates to "First Father". Some of them believe that a portion of Frost Giant blood runs in their veins.
Clandur refer to them as Altheis Thiudan, which means "Aged King".
Giron call them Coelbuarhac, which means "one who defeats fate".
Eiothar know the Frost Giants as Ithe'ethawather, which means "great danger that comes from the snow".
Back to: Main Page | World Guide | Bestiary