Death Knight Raze
From World of Charun
Destroyed in 362 IV
Servant of Khirlak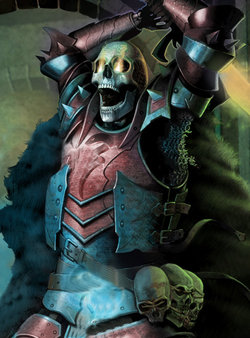 Once a Punisher of Garagor fighting in Abbadon's Dark Crusade, Raze was brought back to the mortal world as a death knight by the devil-lich Khirlak in 362 IV.
Serving his new master's wishes, Raze began a tour of slaughter among the brigands of the Old Land, who were raised by Khirlak to participate in an attack against Nyhavn on the weddingday of Randvar Leikrson and Kathleen. After killing Eirikur Ivarson, King of Ulvhavn, the death knight was forced to retreat in order to regain his powers.
He returned a few months later, in Saindar 362 IV, and killed the legendary hero Eothewar in an ambush arranged by Eagle's Ruin. However, Raze was destroyed in the fight and sent back to the depths of Hell.
His final appearence came in Randine 363 IV, when he was summoned by Khirlak to interere with the execution of Josephine Babineux, leader of the Eagle's Ruin. Raze caused enough havoc durin his brief stay in the mortal world to enable Babineux's escape, after which he vanished in a flahs of lighthing back to Hell.
More about: Khirlak | Lord Raze
Back to: Main Page | World Guide | The Famed of Today